Very Important Painter (VIP) Membership Pass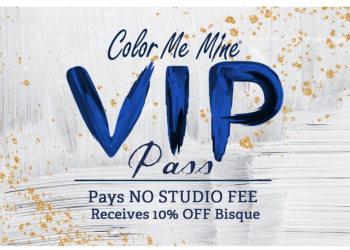 PRICE: $75+ tax per pass
BENEFITS:
-PAY NO STUDIO FEES FOR A YEAR!
-TAKE 10% OFF ALL POTTERY!
Benefits start on the day the pass is redeemed for first use and ends on the same day the following calendar year. Entitles pass holder to 1 (ONE) year of free studio fees plus 10% off all pottery. VIP passes are non-transferable and are valid at Toms River location only. Expires one (1) year from redeem date. Discounts cannot be combined with any other specials or coupons.